The auxiliary bishop of San Juan, Monsignor Alberto Figueroa, sent a message of perseverance to the Solidarios Class of 2022.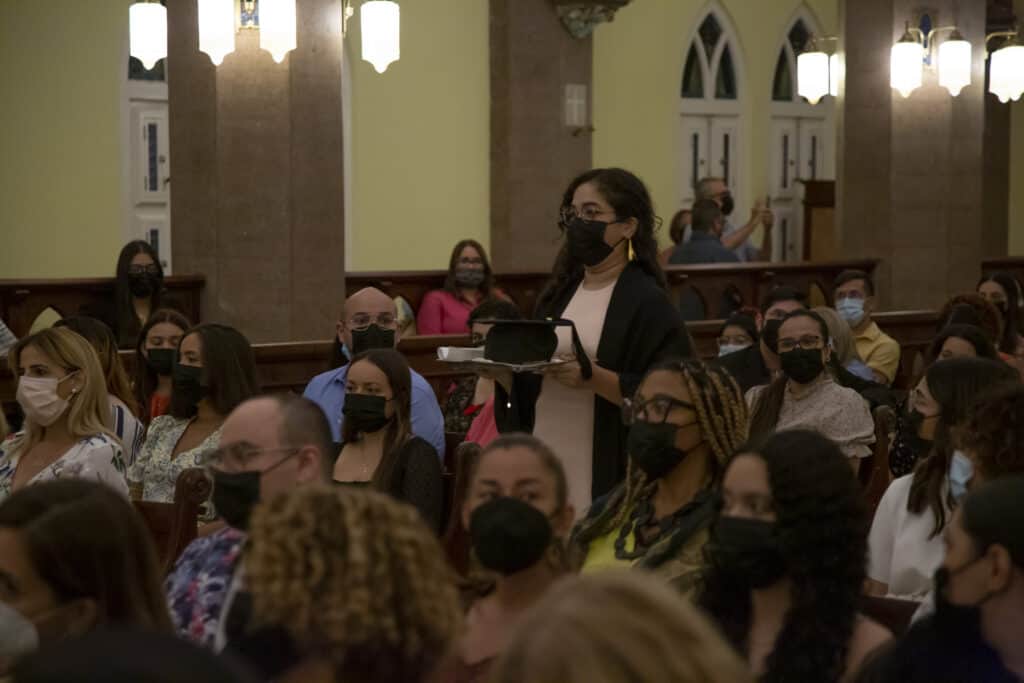 By Liz Yanira Del Valle
Contributor

The value of words and gratitude in life was the focus of the message that Monsignor Alberto Figueroa brought to the 2022 Graduation Mass for Sagrado Corazón University graduates, held at the Main Chapel.
"Remember: the world of work is sacred and needs honest people, willing to put words to action. It is a privilege to receive an education like this, in other countries – sadly – ​​they do not," said Figueroa, auxiliary bishop of San Juan.
The offerings included bread and wine; diplomas and a cap, representing education; the Alumni pins, as a connection to Sagrado; and the Rosa Filipina Duchesne medal.
After communion, the Solidarios Class of 2022 was consecrated to the Sacred Heart of Jesus: "Stand to humbly receive that flame of love from the heart of Jesus, which is transmitted to you today (June 9); so that it continues to provide light in our society," said Sister Madeline Ortiz, Dean of Student Affairs.
This Eucharist also served to remember the life of Dr. Edgar Quiles, professor and founder of the Sagrado Theater program, who passed away this month; as well as that of María Ortiz and Cisa Galarza, sisters of the Sacred Heart of Jesus.
Rosa Filipina Duchesne Medal
The mass included a moment in which the Rosa Filipina Duchesne Medal was awarded to alumna María del Carmen Santiago Valentín, a distinction handed to her by Ángel Torres, president of Sagrado's Board of Trustees, and Gilberto Marxuach-Torrós, president of our university.
Santiago Valentín graduated from Sagrado with a bachelor's degree in Languages ​​and Literature in 1991, and pursued master's degrees in Literary Translation, French Literature, and Foreign Language Teaching Methodology, in the United States.
She fights for education and the inclusion of language programs in school curriculums, as well as for social and environmental justice; her philanthropic work is global.
In 2018, the Board of Trustees of Sagrado Corazón University instituted the Rosa Filipina Duchesne Medal to honor the life of service of persons who, like her, crossed borders through service and whose proliferating ability to help others moves people to charity work.
Rosa Filipina Duchesne is the religious sister and foundress of the Sacred Heart Schools in America, the first missionary born in France (in 1769) to be declared a saint.
In response, Santiago Valentín was grateful for the recognition. During her message, she advised the Solidarios 2022 class members in attendance, saying that '[t]hat day (graduation) is not the culmination, but the beginning of new dreams, new challenges. You are the dream of your parents, grandparents, and ancestors."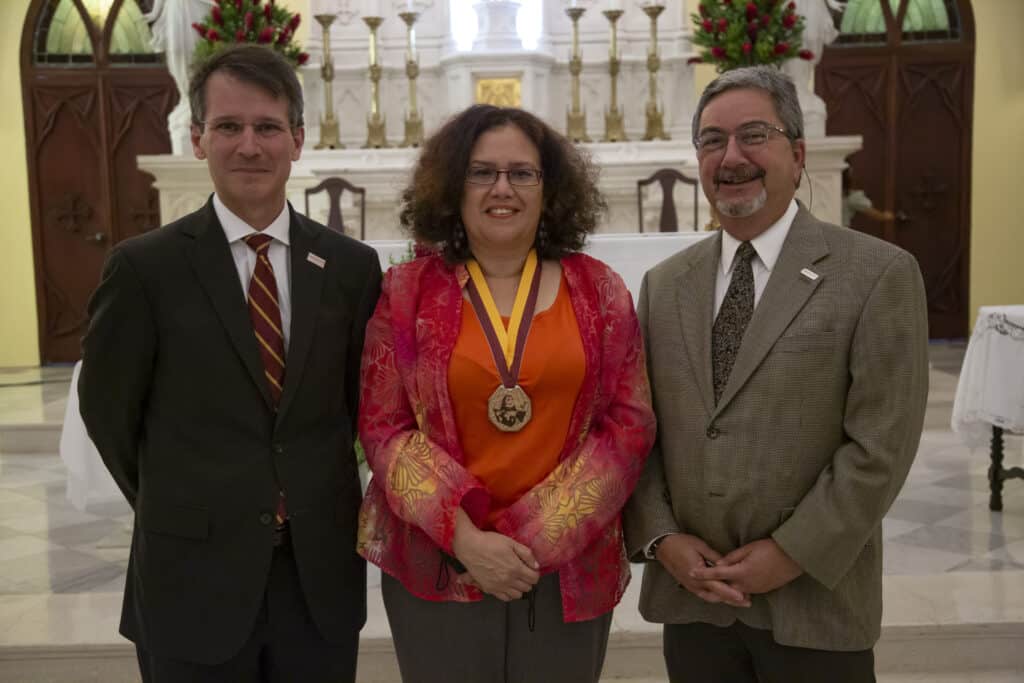 Similarly, Marxuach-Torrós urged graduates to be grateful to those who helped them in their academic formation and in achieving this goal, while also thanking the university community for their contribution on a daily basis to offer an excellent education to the student body.
"I invite you to trust, do not be afraid, and remember that this campus will always be your home," said the president.
Sagrado will hold its Eighty-third Commencement Ceremony this Sunday, June 12, on campus.