The saxophonist celebrated his honorary doctorate in Arts from Sagrado along with the university community, friends, colleagues and family.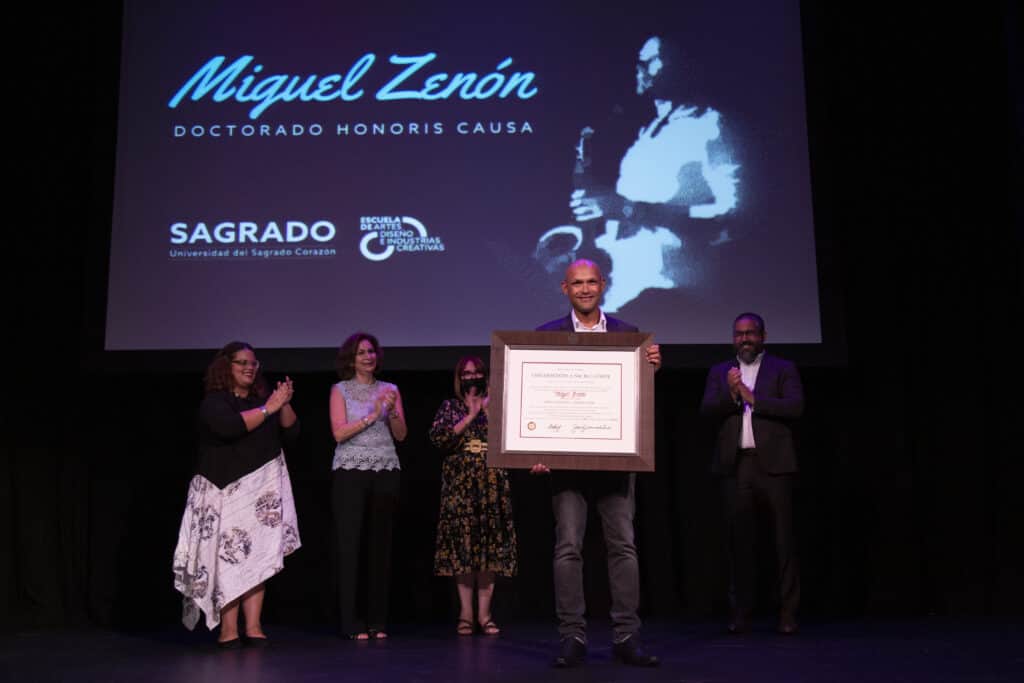 By Liz Yanira Del Valle
Contributor
The nobility, commitment to his Island, and musicality of saxophonist Miguel Zenón permeated the celebration of his doctorate honoris causa in Arts, which took place at the Emilio S. Belaval Theater in Sagrado. This event was held as a prelude to the granting of the degree, which will be conferred during Sagrado's Eighty-third Commencement Ceremony, which will take place on Sunday, June 12.
"I always think, as a musician, about my responsibility. I ask myself: what do I contribute with my music, with my art? I believe in using art as an expression, but also as a means to create a better world, as far as it is possible," Zenón said to the audience, which included his wife, Elga Castro, and daughter Elena Zenón.
That night served to showcase the musical theory on Miguel's stave, his life and work he began at the Escuela Libre de Música, in Hato Rey. He went on to earn a bachelor's degree from Berklee College of Music in Boston and a master's degree from the Manhattan School of Music in New York.
His genius earned him nominations for the Grammy Awards, with the productions titled "Esta Plena" and "Alma Adentro," as well as recognitions such as the Guggenheim and McArthur scholarships. He also developed a space to bring jazz to rural areas of Puerto Rico through his Caravana Cultural project.
"These awards validate a history of commitment to art and its role in building a society of justice and peace. For this reason, Sagrado Corazón University is honored to grant this honoris causa degree in Arts to Miguel Zenón," could be heard on a video profile presented at the activity.
Then, Javier Hernández Acosta, dean of Sagrado's School of Arts, Design, and Creative Industries, confirmed that Zenón summarizes the mission and vision of the university and took the opportunity to announce the new Miguel Zenón scholarship, which boasts an initial fund of $20,000.
In addition, academic leaders and staff from the School of Arts presented Miguel with a series of creative gifts. Among these was an animated sequence produced by Sagrado's Center for Creative Technologies, StudioLab, together with the Dance program, to honor the artist.
The protocol and interventions of Mariana Reyes, cultural manager of the La Goyco Community Workshop; singer Pirulo; and the daughter of the honoree gave an emotional touch to the evening. For his part, photojournalist Ricardo Alcaraz contributed to this special occasion with a photography exhibit of different moments in Miguel's life.
The celebration concluded with a cocktail in Zenón's honor where the university community was in attendance: students, teachers and administrators, friends, colleagues, and family. Professors Jorge Flynn, Efraín Ramos and Melvin Adames, as well as students Luis Alfredo Torres and Antony Muñoz, added to the evening with their music.