Bohodogo's founder and Sagrado alumna, Jarrette M. Soto, shares her entrepreneurship success story.
By Liz Yanira Del Valle
Collaborator
Authentic, free-spirited, and a thorough dog lover. That's Sagrado alumna Jarrette M. Soto, founder of Bohodogo, a pet grooming service with a particular history, since unexpected obstacles and persistence contributed to its emergence. Jarrette herself says it easily and doesn't try to deny it. For her, it would be like betraying herself.
Bohodogo, located on Avenida Ponce de León #1664, is currently one of the newly emerging stores within the Santurce commercial district.
Its owner is a graduate of Sagrado's Ferré Rangel School of Communication (2012). She prefers to talk about her project rather than her business. Likewise, she talks about her community, not her customers. She even conveys the ideal of freedom; that is why, in Bohodogo, dogs are cared for without much restraint and confinement.
"My Bachelor's degree in General Communication helped me on the path of entrepreneurship. From reinforcing the correct use of the Spanish language, both written and spoken, to giving me confidence and mastery when expressing myself in front of an audience, to photography courses, to electives in Public Relations… Anyway, I did not waste my time. Excellence in education always brings about freedom. It's about addition, not subtraction."

Jarrette M. Soto
Entrepreneur and Sagrado Alumna
Despite her solid academic preparation, the young woman failed to achieve the desired stability in the labor market corresponding to her field of studies after graduation. "It's a reality. I think that, after Hurricane Maria, everything got a little more complicated. All in all, I managed to get a job in the Public Relations department of ​​a hotel. I am grateful for that. During other opportunities, I worked in sales and managing a business. I even left the Island in search of other options. Fortunately, I came back," she said.
Upon her return, Jarrette was clear about carving a path as an entrepreneur. "I returned to Sagrado and took a short course in Interior Design and Decoration. This also contributed to what Bohodogo is today," recalled the communicator, who later participated in a groomers convention that would change her life.
"An aunt invited me. We love animals, especially our dogs. It wasn't hard to go with her to Philadelphia. That inspired me, and when I returned, I went after a groomer certification. From that moment, I projected myself in that field, I drew my logo, made promotional t-shirts, I started passionately, and I keep going like that," said the happy businesswoman and "dog mother" of two rescued mutts, Balto and Nina. "To me, they are like my children," she added without reservation.
Jarrette had allies during the entrepreneurship process: her family and the Instagram platform.
"Up to that point, social media didn't appeal to me, but I started to document the experience I had at the convention, my time as a groomer apprentice and, later, the start of the project that took off in my home. This holistically created a community of followers, and thus this great opportunity arose. The photography classes I took at Sagrado were not in vain. The photos of the dogs show the quality of our work," she said.
The COVID-19 pandemic delayed the opening of Bohodogo. But on May 25, 2020, it began receiving customers by appointment.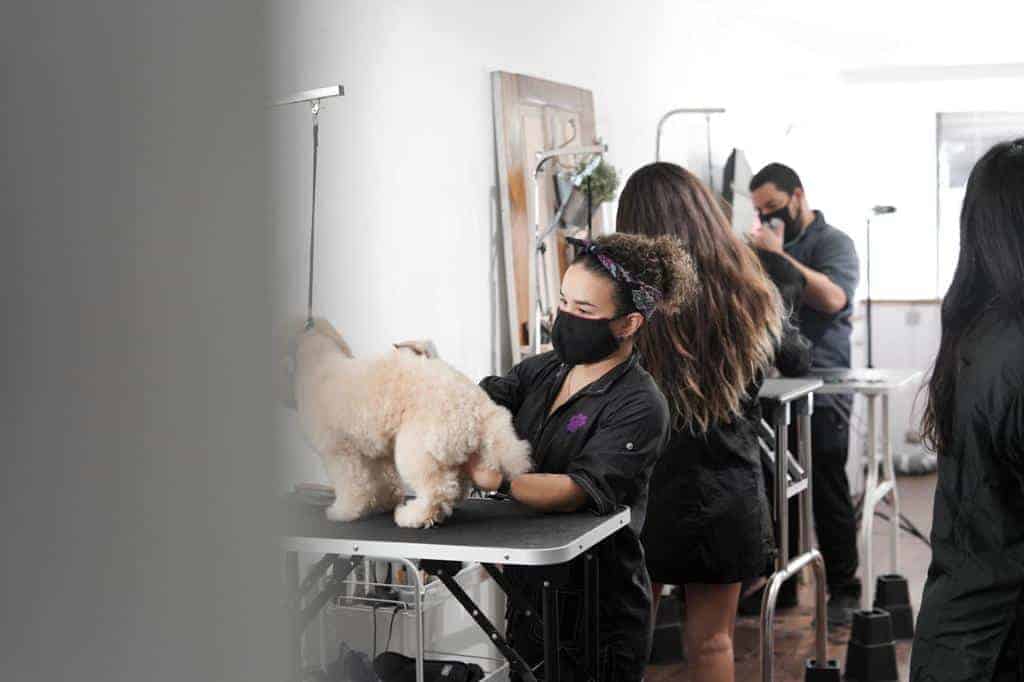 "I have six employees. We are growing and enjoying our work. After so many hard times, now I find myself delighted and completely dedicated to the services I offer," she said.
According to the Sagrado alumna, her project goes beyond providing styling for dogs.
"I share what I have experienced in this business world to inspire other young people to accomplish their projects. They must seize opportunities to develop their ideas, have vision, project themselves and persevere with faith. Accept those obstacles and learn to manage them in favor of that vision," she stressed.
If, like Jarrette, you want to be an entrepreneur, we invite you to explore Sagrado's new educational project. Built on the pillars of innovation, solidarity, creativity, entrepreneurship, and sustainability, this academic proposal seeks to offer both undergraduate and graduate students the necessary tools to develop projects that positively impact their communities.