The financial aid will benefit 83 students of the Ferré Rangel School of Communication.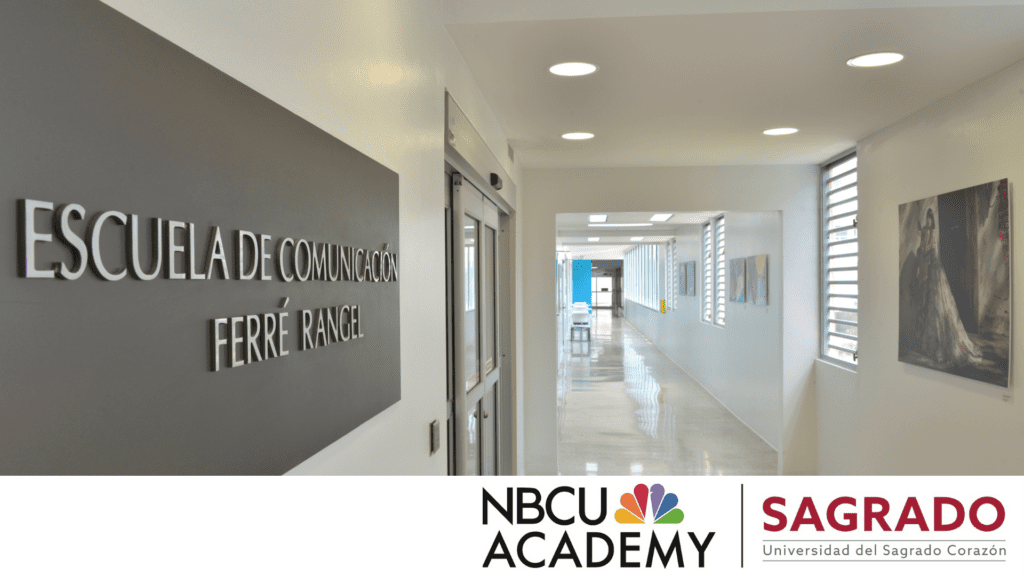 By Integrated Communications
Through its NBCU Academy program, the NBCU News Group awarded the Ferré Rangel School of Communication (ECFR, Spanish acronym) of Sagrado Corazón University a donation as part of a new partnership for the purpose of supporting the education of communicators who contribute to the values ​​of diversity, equity, and inclusion in society. Sagrado is one of 13 academic partners that will receive part of a $2 million investment from NBCU Academy in 2022.
"The grant will go to scholarships for students who demonstrate academic excellence and who can produce content that reflects diversity in communities and provides visibility to the current challenges in this area. Other funds will be allocated to the purchase of technical equipment or payment for human resources that support the development of skills in students and facilitate the creation of said content," explained ECFR director doctor Gabriel Paizy Damiani.
As he stated, the financial aid, which will begin to be distributed from August 2022 until December 2023, will benefit the following main populations:
– New ECFR students, both at the bachelor's and master's degree levels:
A total of 20 scholarships of $1,200 each will be awarded to full-time students with a high school or university GPA of 3.5 or higher, who have participated in some social impact effort and who submit a proposal on how to promote issues of diversity (audiovisual productions, podcasts, advertisements, public relations plans, and journalistic investigative reports, among others). The students, selected by a committee made up of university professors, career development professionals and the Sagrado Scholarship Program, will be able to develop their projects through one of ECFR's three student companies: the strategic communication firm Elemento360, the EntreMedios multimedia content creation center, or the MultiMedios
audiovisual content production unit.
– Regular ECFR bachelor's and master's degree students:
A total of 63 scholarships of $2,000 each will be awarded to students from all of ECFR's undergraduate and graduate programs who are in their junior or senior year (in the case of bachelor's degrees) or in their last academic quarter (in the case of master's degrees), whose academic average is 3.5 or higher and who submit an essay on issues of diversity, equity, and inclusion.
The students, selected by the evaluation committee, will participate in an International Experience course whose main topic will be immersion, research, and content production that provide visibility to various foreign communities in Puerto Rico. At the end of the course, students will travel for a week to the country of origin of these communities to complement their work. Upon their return, they must present their projects to the Sagrado community and develop a plan for disseminating the content on social networks and mass media.
Sagrado's vice president of development and university relations, Sara Tolosa Ramírez, stated:
"Sagrado's vice president of development and university relations, Sara Tolosa Ramírez, stated that "through these efforts, students will be reinforcing their sense of solidarity and empathy with diverse communities in our society, while developing a vision of the world through their international experiences that will help them understand the cultural, political, economic, and social idiosyncrasies of other nations. They will contribute, in turn, to disseminating these experiences and learning so that other people can have better visibility and clarity of the challenges faced by these foreign communities in their struggles for equality, justice, and peace".
In addition, as part of the agreement with NBCU Academy, students will be able to participate in recruitment activities for internships and employment opportunities at the company. In this way, Sagrado joins the group of 30 academic partners of NBCU Academy, NBCUniversal News Group's multi-platform journalism training and development program that serves students from four-year universities, community colleges and accredited programs.
"The way we gather and consume news is consistently evolving. Through NBCU Academy, we're forging a generation of diverse journalists that are ahead of the curve on media technologies," said Yvette Miley, Senior Vice President of Diversity, Equity and Inclusion for the NBCUniversal News Group.
"For ECFR, these types of alliances with prestigious and renowned entities, such as NBCU, are extremely important. They align with Sagrado's vision of fostering collaboration between academia and industry for the training and educational process of our students," said Paizy.
For more information about these scholarships, please send an email to: gabriel.paizy@sagrado.edu.