Students restated their commitment to the health of all citizens.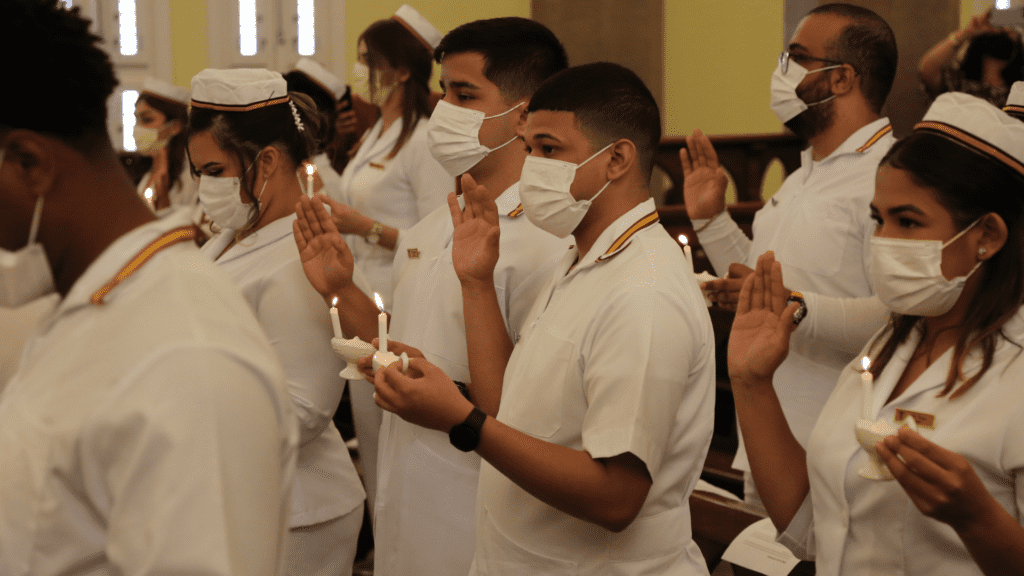 By Integrated Communications
"Glory be to Him who has given me wisdom!" , Ecclesiasticus 51:17
Over 50 students from the online and face-to-face Nursing program of Sagrado Corazón University took their oath as nurses on May 4 and 26, 2022, to reiterate their vocation for health.
The Nursing Profession Initiation Ceremony began with a mass in the Main Chapel, together with the university community, colleagues, friends, and family.
The celebration of the Eucharist included symbols such as the lamp, the caduceus, the cap and -finally- the oath of the profession, a commitment of the nurses with service to citizens in a responsible and conscientious way.
"Starting today, we have a new challenge that we will assume with dignity and commitment, with ourselves, our family, our university, and society in general. As nurses, we must be role models".

Manuel Villanueva,
Online Nursing Student
"Sagrado prepared us with scientific knowledge to be nurses based on human values, based on respect, responsibility and integrity," he added.
Sandra Cotto, director of the Nursing Program, said: "The Nursing Program prepares you to care for people with excellence. At Sagrado, our basis is the quality of the human being, as well as moral and spiritual values, and respect for diversity."
May the Sacred Heart illuminate their duty.