During the activity, Academic Progress and Academic Excellence medals, among others, were awarded.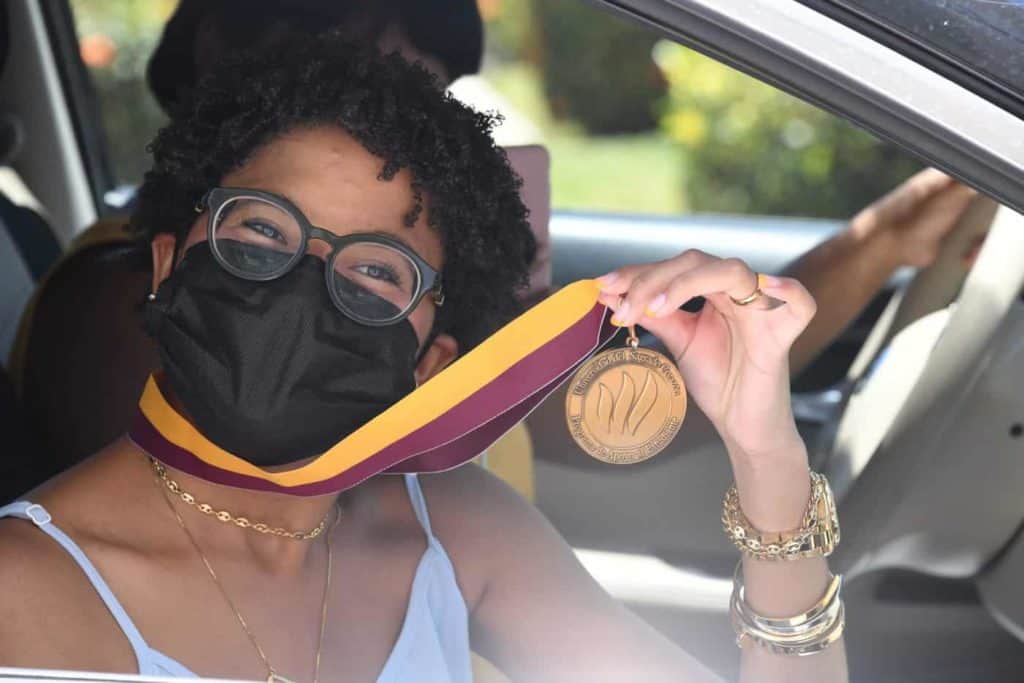 By Liz Yanira Del Valle
Collaborator
In the midst of its 45th anniversary celebration, Sagrado's Student Support Program (PAE) recognized its outstanding students from the 2020-2021 academic year during a virtual activity hosted by Yizeth Arellano García and Eddie Nieves Burgos, both academic advisors of said program.
During this annual event, Sagrado's president, Gilberto Marxuach Torrós, congratulated all the program's participants, especially the 104 students who had outstanding achievements.
"PAE is a very special project in Sagrado. It serves more than 600 students annually, many of whom are first generation, some come from low-income families, and others are struggling with functional diversity. They are a very special group that receives great support and backing from the entire program team and staff."

Gilberto Marxuach Torrós
Sagrado's President
The services that PAE provides include financial incentives, if eligible; a seminar called "Your Path to University Success!"; cultural activities; academic, financial, career, and graduate study counseling; training workshops; and academic and technological support.
For Marxuach Torrós, PAE testifies to Sagrado's mission of solidarity and, in turn, "demonstrates the potential that all young people have to achieve their goals, regardless of their background and their realities. Everyone can progress, excel, and achieve their dreams."
For her part, PAE director Liz Sepúlveda Arroyo stressed that Sagrado was a pioneer in hosting the program in Puerto Rico and continues to set new standards. "It is also the first university on the Island to have the largest number of students under the program (618) and the third in the United States," said Sepúlveda Arroyo.
In the activity, the awards for Academic Progress, Academic Excellence, Special Successful Student Award, and PAE Faculty of Excellence Award were given out.
Jeamy Meléndez Del Rosario, PAE coordinator, presented the Special Successful Student Award to Edwin Johnson Cardona. "Thanks to PAE for the opportunities it gave me for my academic development," said the award-winning Dolphin, who is a student in the Social Work program.
Later, Professor Ana González Negrón was recognized. She has spent 26 years of her life teaching mathematics, and in PAE, she is described by her students as a professor who is "patient, committed, and an excellent human being".
During her thank you message, González Negrón quoted philosopher and scientist Aristotle: "We are what we do every day". On the matter, the professor, who is also industrial engineer, added that "excellence is not an act but a habit that develops little by little, with a lot of effort and sacrifice. It is what makes us good citizens and leads us to be productive in our society."
The closing of the event featured Adeisha L. Williams Rodríguez, a Sagrado Student who belongs to the Institute of Musical Arts, performing the song Natural Woman, by Aretha Franklin.
After the virtual event, which was held in this modality due to the COVID-19 pandemic, there was a face-to-face ceremony at Sagrado's Pórtico to hand out the medals to the students, following the strict health protocols implemented by the University.
Look at the photo gallery:
Read the list of recognized students:
Academic Progress:
Grecia C. Burgos Rivera, Arysha A. Camacho Cabello, Melanie Delgado Nater, Annahizenette M. Rojas Martínez, Adeysha L.A. Williams Rodríguez, Adrián Borges, Estrada, Jaimilee Ocasio Vázquez, Joseph G. Colón, Nicole N. Alicea Muñoz, Elybeth Fragoso Robles, Darialys Z. Torres Díaz, Paola Avilés Crespo, Aleandra Maldonado Ortiz, Linnette Díaz Bruno, Jaimely López Cruz, Alondra S. Rodríguez Cruz, Judith Carro Narváez, Jonathan D. Fuentes Pérez.
Academic Excellence:
Alexabeht Nazario Vargas, Michelle González Merly, Kareliz Ríos Santiago, Kimberly Pérez Sánchez, Jolimar Franco, Melanie Rivera Malavé, Gabriela Colón Sánchez, Mayeliz Matos Guardarrama, Cristal Rivera Nater, Edwin Johnson Cardona, Julianys Torres Rodríguez, Keyshanie Pérez Mercedes, Leonardo Ramos Rodríguez, Luis González Nieves, Joanelis Vigo Mora, Fabiana Correa Bracete, Yairimar Tardy Jusino, Yianizaret Méndez Irizarry, Glorymar Soto García, Adiaris Badillo Rivera, Adrianna Arce Wiscovitch, Roberto Laboy Morales, Michael Vargas Vázquez, Stephanie Torres Ruiz, Wilvelys Méndez Pagán, Victoria Paola Camacho Díaz, Alondra Echevarría Román, Angélica Rosario, Alianys N. Ríos Rivera, Laura Hernández Rivera, Mabel Canales Rivera, Verónica Carrasquillo Zapata, Raphel Rolón Rey, Katherine De Jesús Méndez, Ángeles Mangual Peña, Adriana Torres Rivera, Izarys Gutiérrez Soto, Alexandra Alvarado Rosa, Camila Pérez Carballo, Ashley Pérez Ayala, Lorenzo E. Romero Feliciano, Rainier Vélez Aponte, Raúl A. Pérez Cristóbal, Natalia Tapia Pizarro, Tahís A. Rivera Sánchez, Michelle Acevedo Cruz, Danishka Bonano López, Stephanie Valentín Vélez, Valeria Virella Guach, Tanaisha Marie Díaz Rosado, Elsa Repollet Repollet, Idamis Torres Marrero, Mohely Encarnación Lugo, Tathiana Rolón Rey, Glorimarie Matías Rivera, Ángel L. Román Ruiz, Mariexis Morales Moreno, Ian J. Rodríguez Montes, Yariel J. Díaz Díaz, Wilselies Cartagena Algarín, Naylibeth Mercado Luciano, Sofía Y. Rivera Vélez, Alondra M. Morales Ruiz, Frangelys R. Rodríguez Hernández, Luis D. Rivera Pérez, Rachel M. Martínez Morales, Héctor Díaz López, Luis E. Colón Merced, Gabriela M. Santiago Resto, Jean Paul Tañón Santini, Arianamarie Rodríguez Maldonado, Julianny P. Tavárez Brito, Yamiliz Christian Flores, Esteban De Jesús Cruz, Yaira S. Torres Rivera, Nashla N. Marcano Gelpí, Dakmaris González Santiago, Anahi Rodríguez Quiñones, Bárbara Rodríguez Díaz, Alvín I. Fernández Cruz, Camila I. Calderón Estrella, Gregory J. Pacheco Vélez, Sairalys Sánchez Nevárez, Adriana K. Colón Cruz, Nicole M. Feliciano Rodríguez, Franchelly I. Reyes Jerez.