InSagrado Magazine got the scoop on our beloved dolphins.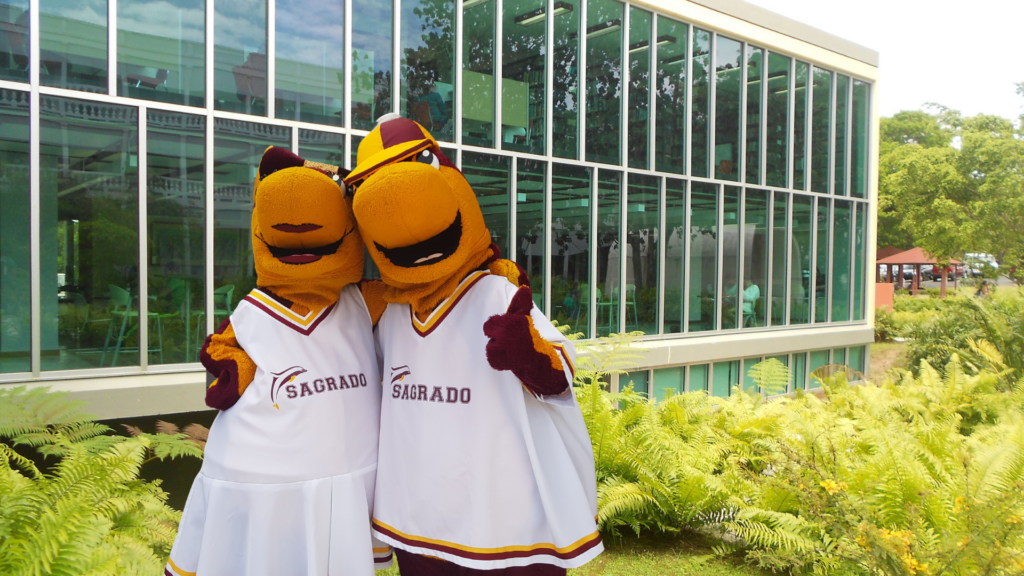 By Integrated Communications
You've surely seen this pair: Delfy and Daphne, our Sagrado Corazón University mascots, going around campus with their endless joy and energy. InSagrado Magazine exclusively interviewed the beloved dolphins. Get to know them!
1. What kind of dolphin are you?
"Daphne and I are anthropomorphic dolphins. That is, animals with human characteristics; odontocete cetaceans with elongated snouts, great intelligence and social behavior," explained Delfy.
2. Are you related?
"No, we are not family; but we're great friends who sometimes flirt with each other," Daphne said, giggling.
3. Are you on social media?
"In September 2021, I coaxed Delfy to open a TikTok account. And this adventure full of challenges and dances has been super fun for the @sagradopr account. Follow us!" Daphne added.
4. What is your hobby?
"Go see the games of our student-athletes to cheer from the heart with the fans. I yell: 'Vellón, peseta; Sagrado se respeta,' at the top of my lungs," assured Delfy while he burst out laughing. "We also join in at the beginning of the semester to meet all new students, and in graduations to celebrate the graduates' achievements," said Daphne.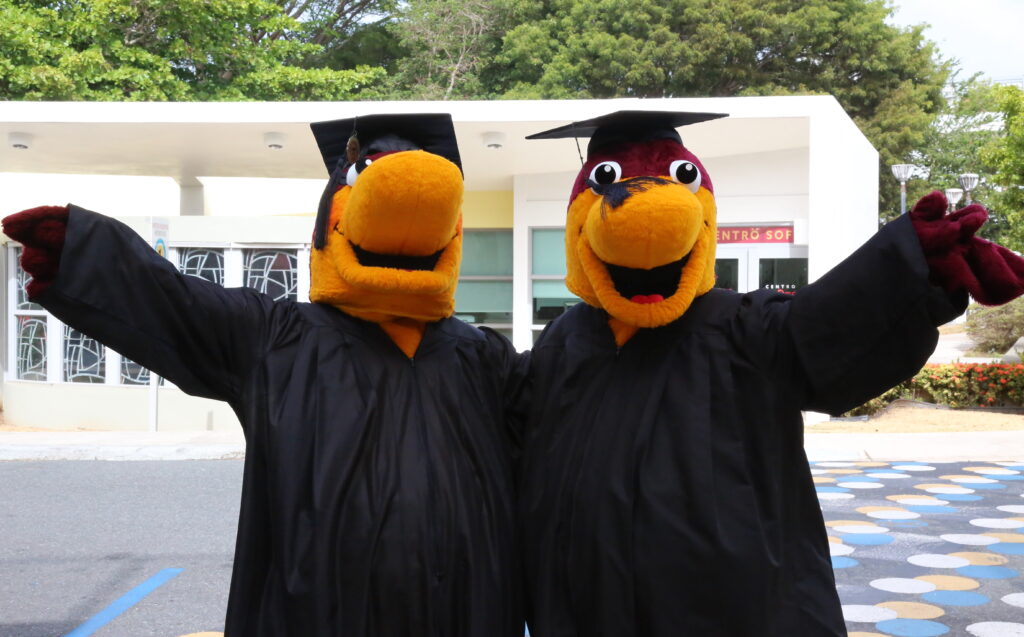 5. Why do you wear cheerleading clothes?
"Chance favors those who are prepared. And our cheerleading outfits are perfect to support Sagrado students on and off the field," Delfy said.
6. Where do you live?
"Since we are Sagrado students, Delfy stays in the Men's Residence Hall, and I stay in the Women's Residence Hall. We have such a great time!" Daphne exclaimed.
7. Favorite colors?
"Burgundy and yellow, the colors of Sagrado Corazón University," replied Daphne. Delfy nodded in agreement.
8. What musical genre do you prefer?
"We enjoy hits in English and Spanish. Particularly those with positive lyrics and a cheerful rhythm, without excluding any musical genres," replied the dolphins. Delfy added: "I have a playlist: "El playlist de Delfy." Check it out on Spotify: https://sagr.co/3bBFwvR".
9. Favorite place in Sagrado?
"The pool, of course," said the dolphins.
10. Your favorite phrase…
"You know it: 'A dolphin never gives up,' a phrase that we dedicate to our Sagrado students, as well as to the employees and faculty of our university," concluded Delfy.