Our student-athletes begin their training for the Intercollegiate Sports League (LAI, Spanish acronym) 2020-2021 competitions.
By Joanelis N. Vigo Mora
Journalism Student
After six months without showing up to campus due to the COVID-19 pandemic, the student-athletes of Sagrado Corazón University are already back to begin their preparation for the expected start of competitions in the 2020-2021 Intercollegiate Sports League.
To guarantee the safety of both athletes, coaches, and employees, the institution has taken strict sanitary measures. For this reason, Sagrado athletes from state that they feel protected when they begin their training sessions on campus.
"I understand that they have made it perfect. They are worrying about our health and that is paramount. They are also following up on what is our training at home. So they are making the perfect balance," expressed volleyball player Héctor Iván Santiago.
Sagrado established a medical surveillance system that entails a specific protocol to access the facilities and move around them. This includes disinfection of all areas, and the use of a mask and physical distancing are mandatory at all times. In addition, different points have been established with hand sanitizer, among other hygiene items, for the use of all staff.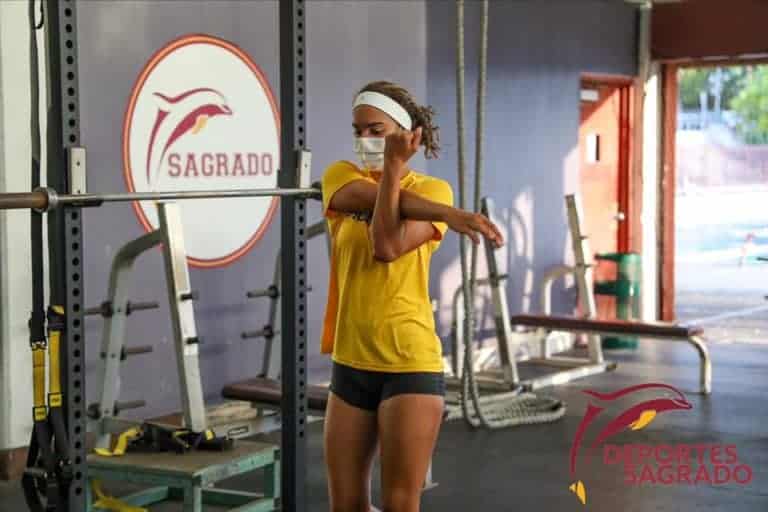 "I really find that they have had quite a bit of control in all the tests that we have done. They have disinfected all the places we have touched. In addition to that, we always use a mask and a spacing of six feet," said Adriana Colón, who is part of the tennis team.
The athletes' training began with physical tests for the different disciplines. However, their preparation started much earlier at their homes – in the midst of the pandemic – with personal exercise routines and a good eating plan that helped them stay in good condition before fully starting with the training. On the other hand, the athletes confessed that they already needed to train together, while revealing how difficult it has been to be apart during the past months.
"I haven't seen my teammates since March and it feels really good, because being at home in isolation is not the same as doing group training. That makes you feel good and gives you the motivation to keep going," said athlete Luis Hernández.
Training per discipline is expected to begin soon at the university's athletic facilities.