This professor in the Natural Sciences Department has spent 42 years devoted to her work at Sagrado.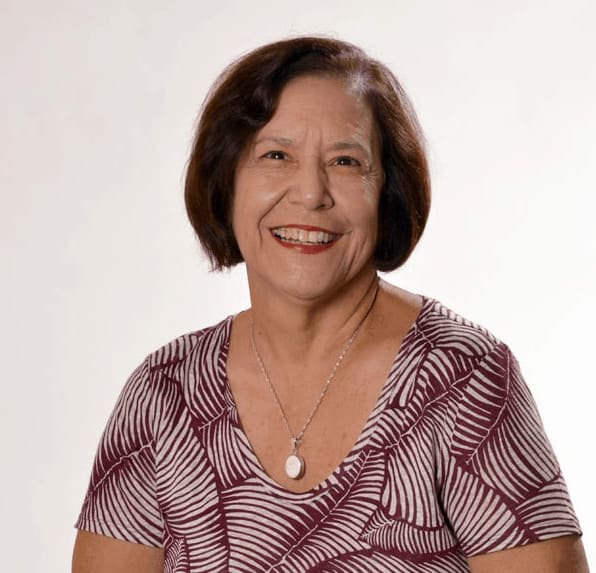 By Liz Yanira Del Valle
Collaborator
Being a scientist and a woman at the cutting edge, Sagrado's Dr. María Lázaro Vicéns has plenty of energy. Instead of waiting anxiously and joyfully for retirement, it is retirement who is waiting for her. Lázaro Vicéns has been committed for 42 years to her work in Sagrado.
In these times of COVID-19, this professor of the Natural Sciences Department says that, either through videoconferencing or in any other way, she will continue to be in front of a classroom. Of course, she prefers a actual classroom.
"Remember that I belong to another generation. I am very interested in the warmth of personal exchange, which is essential to me. Obviously, I do recognize all the contributions of technology, especially at this time," said the person who, before talking to InSagrado, had already given two exams to two different groups via the Internet.
Moving away from the virus issue, we go back in time. In 1975, a young María Lázaro obtained her Bachelor's degree in Natural Sciences with a major in Biology at the University of Puerto Rico (UPR), Río Piedras campus. "I'll tell you that, at that time in Puerto Rico, only a Ph.D. in Chemistry was offered, not in Biology," she said.
For her, determination has never been lacking, so Lázaro Vicéns went for the Master's degree in Biology. "In 1977, I graduated from my Master's degree. It was not just any degree. That UPR program was very hard. Its Biology was holistic. We came out very well prepared in all branches of that science," she said proudly.
Likewise, she effusively declared that, ever since then, her lifelong place of work has been Sagrado.
The biologist recalls that she was part of the team of professionals who started their careers here when the institution was on its way to becoming a university.
Motivation was not lacking, either. She was like a fish in water. She entered the School of Natural Sciences and taught courses in General Biology, Human Physiology, Anatomy, and Embryology, among others.
Lázaro Vicéns believes that everything evolves, and even more so in science. That's why she has always wanted to innovate. She hates being stagnant. In fact, she was very vocal in calling for the update of older curricula, and even of the current one. As an example, she cited the case of the Developmental Biology course. "That one's more modern, it includes changes in the shape of the cell and within it. It is a more multidisciplinary kind of Biology", she added.
This Sagrado professor admits that one of the things she's enjoyed the most in all the roles she's performed in Sagrado is teaching.
She stressed that her great passion for teaching extends outside of the classroom, since she was also interested in favorably impacting other educators. In Sagrado, Lázaro Vicéns discovered the possibility of being a "teacher of teachers". Here, she worked with federal projects that contributed to improve the preparation of science educators in the Department of Education. The scientist designed the courses for the Math area, and also coordinated workshops and entire courses.
"I love the learning process. I love to learn and, in turn, educate. I enjoy it very much. I like the classroom. Sagrado is my life and I also consider it an Alma Mater."

Dr. María Lázaro Vicéns, professor of the Department of Natural Sciences
Incidentally, this institution offered other opportunities for this professional. For example, in the 1990s, she was head of the Department of Natural Sciences. "I spent four years in that capacity," she said.
"I told you: everything evolves. Finally, the UPR began offering a Ph.D. in Biology known as an Inter-Campus Program between Río Piedras and the Medical Center. Let me tell you a story: I wasn't looking to apply, it was my former master's degree professors who called me and proposed that I apply. I got a scholarship, and Sagrado granted me a sabbatical with the condition that I came back. And you see, I'm still here," she stated.
She remembers her fears from that time, when she saw herself surrounded by many very young classmates.
"I thought it would be three times as difficult for me, as I had long since graduated from my Master's. But soon after, I discovered what I already told you: I was well prepared. Besides, the practice of working at Sagrado, far from making me stagnant, had renovated me even though I did not fully realize it. Students give me a lot of energy," she said.
Another contribution she has left for future generations of Sagrado students is the design of courses that were not being taught at the university, as is the case of the In Vitro Cell Culture Techniques course.
She also designed the curriculum of the then Biotechnology program, which even included courses in Bioethics, Molecular Bioinformatics, and Integrated Practice.
Lázaro Vicéns was the coordinator of Sagrado's science laboratories renovation.
In 2007, she represented Sagrado at INDUNIV – Industry University Research Center, a non-profit organization that operates as a consortium between universities, government, and industries.
Dr. Lázaro Vicéns has had many opportunities to occupy other positions in the pharmaceutical and biotechnology industry, but she remains faithful to Sagrado.
"There's something particular about Sagrado. The people who work here are very committed to the University. Good coworker relationships are a hallmark. We are very close in this faculty. The interaction between student and faculty is very close. That is why I have not left here and I'll say it again: I love the classroom."

Dr. María Lázaro Vicéns, professor of the Department of Natural Sciences
For this biologist, Sagrado is "an institution with heart devoted to the education of its students, to the development of knowledge, to guiding its students in different subjects, but with a human touch; it's important to know that we have to be committed to each other, whether we are face-to-face or in virtual mode".