The Benjamin A. Gilman Scholarship will allow Derek Voglis to study Mandarin Chinese at the Communication University of China.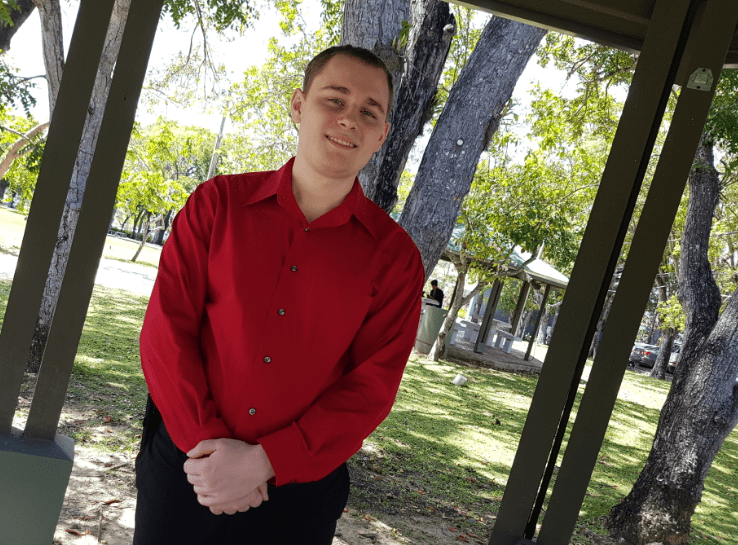 By Liz Yanira Del Valle
Collaborator
His destination should have been Beijing, China, but for now, he will have to wait.
It turns out that Sagrado student Derek Voglis, from the International Studies program of the Interdisciplinary Faculty of Humanistic and Social Studies, won – prior to the pandemic – the Benjamin A. Gilman International Scholarship, awarded by the State Department of the United States. This $5,000 scholarship will allow Voglis to study Mandarin Chinese at the Communication University of China. Due to the worldwide emergency unleashed by COVID-19, the federal State Department has offered him an extension for the scholarship, since said agency does not recommend that he transfers to China at the moment. The coronavirus may have delayed his plans, but it has not quenched his enthusiasm.
"I had everything ready for the trip. I am fortunate that the postponement of the trip occurred before arriving in China, because I didn't have to experience the difficulties that many foreign students had to face in order to be evacuated from that country."

Derek Voglis, Sagrado student
Voglis is a native of Hershey, Pennsylvania. He speaks perfect Spanish, which he learned in Mexico, where he traveled to study during high school. He then decided to pursue university studies in Puerto Rico, opting for Sagrado's Communications program, but later switching to International Studies.
"I wanted to have a different experience and it's gone well for me. I did it out of personal interest. I feel welcomed and safe here. For me, Sagrado has what every good university should have," said the student, who has been on the Island for three years.
This 21-year-old also studied Mandarin Chinese in high school. Later, he took several courses through Sagrado Global with Prof. Lisha Z. Peterson, who recommended the university in the giant Asian country as an option to polish his skills in that language.
In terms of college credit, this experience would be considered as one of the electives required for his Bachelor's degree. His short-term dream has already found its first stumbling block, but this fledgling globetrotter feels confident that, at some point, he will receive the green light to seize the opportunity.
Since arriving in Puerto Rico, Voglis has had extreme unplanned experiences, such as Hurricane Maria and the recent earthquakes. After María, he didn't think twice about, as soon as he could, joining the recovery efforts carried out by the Sagrado Contigo initiative.
In the future, Voglis sees himself working for the government in some international destination.