Check out our new Bachelor's Degree in Computer Science and Applied Digital Technologies.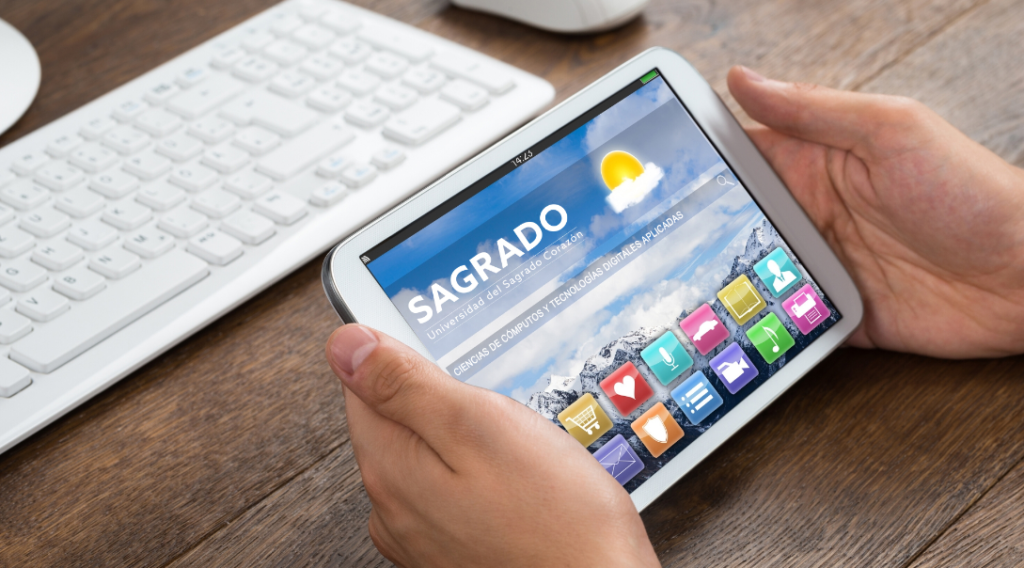 By Integrated Communications
With the goal of training professionals capable of solving everyday problems using computational solutions, Sagrado Corazón University created the new Bachelor's degree in Computer Science and Applied Digital Technologies.
This program, which prepares students to develop web and mobile applications, aims for future graduates to become specialists in communication through computer science.
For Natural Sciences Department professor, Dr. Antonio Vantaggiato, this innovative degree stands out from others existing in Puerto Rico because it incorporates a series of diverse pedagogical approaches and attaches special importance to "learning by doing."
"This allows for developing in students a notion of computer science as something present that embraces culture and includes, but is not limited to, technical elements, research, and personal expression," said Vantaggiato.
In addition, he highlighted that the collaboration between the Department of Natural Sciences and the Ferré Rangel School of Communication creates an interdisciplinary approach that fosters the development of creative content.
As for the professor, Agda Cordero, she added that "computers are the main communication tool right now, as we have been able to understand in light of the current circumstances related to the pandemic that is affecting us globally. Many of us have been able to continue working and interacting with family and friends thanks to computer technologies that allow us to stay connected. "
According to Cordero, the new Bachelor's degree seeks to have students create applications focusing on a good user experience (UX). Moreover, students develop theoretical and practical skills through various spaces for research, as well as individual and collaborative projects.
Degree objectives:
To offer courses that provide a more concrete vision of computer science and communication technologies, as well as their connection to the United Nations Sustainable Development Goals, specifically those related to economic growth, fostering innovation, and reducing inequalities.
To integrate the latest trends in the fields of artificial intelligence, data banks, networks, application development, and data analysis.
To train professionals capable of undertaking the management of innovative products and projects linked to different fields of knowledge.
To prepare students to solve problems using computers in a highly professional manner, generating well-documented and efficient solutions that effectively communicate the information produced.
To promote the use of communication technology applied to different media and situations.
This Bachelor's degree incorporates the latest technological advances and globalization trends. Upon completion of their studies, graduates will be ready to enter the job market as an entrepreneur in multidisciplinary projects that involve digital technology.
To apply for the Computer Science and Applied Digital Technologies academic program, go to: https://www.sagrado.edu/computos-tecnologias-digitales/.