This Sagrado graduate describes her experience pursuing her distance-learning nursing degree.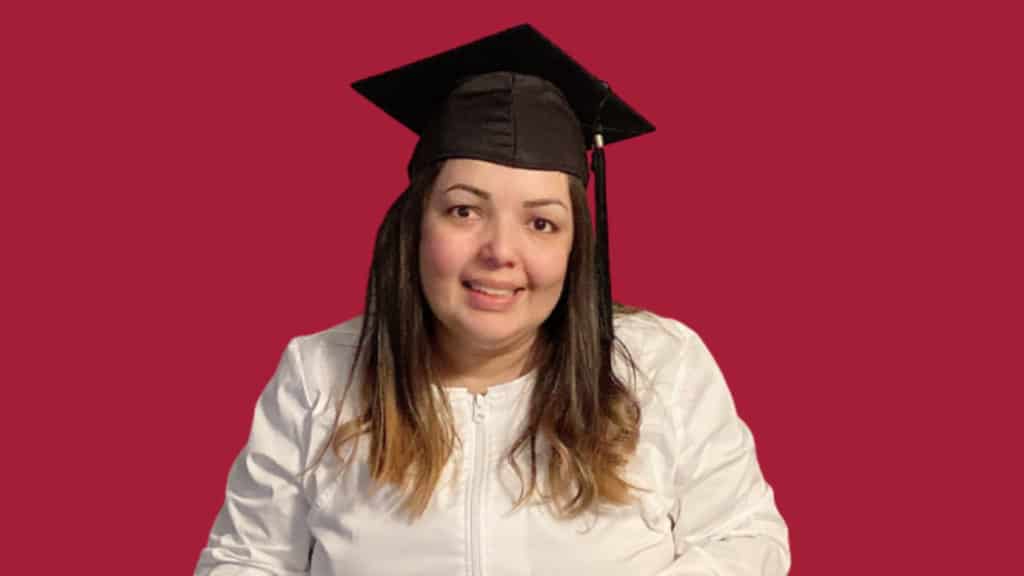 By Liz Yanira del Valle
Collaborator
Dr. Angela Caraballo Martínez describes herself as a "fortified nurse". This Venezuelan gastroenterologist – now residing in New York – recently graduated from Sagrado with a distance-learning Bachelor's Degree in Nursing.
Like Caraballo Martínez, there are many other examples of Latin Americans who have obtained college degrees in their respective countries, but face bureaucratic obstacles upon arriving in the United States to fulfill the requirements to exercise their health-related professions. In light of this situation, giving up is not an option for many of these professionals who live to heal and save lives.
Angela was already working as a physician in Venezuela but, for various reasons, she left the country with her husband and children and has lived in the Big Apple for three years.
"I didn't want to stop working in the field of health. Along the way, I met Dr. Peñalosa, who lives in Pennsylvania, who eventually became my mentor. He was the one who recommended Sagrado's distance-learning Nursing program to me," Caraballo said.
This would be the first time that Caraballo Martínez experienced the modality of remote study. Now, in the middle of this quarantine, she stands amazed at life's twists and turns.
"For me, the online modality was something new. I entered Sagrado looking for alternatives for my situation. Today, I can say as a doctor and a student that the program is a complete and very professional one," said Caraballo, who graduated summa cum laude.
As part of this program, students do face-to-face practice rotations in Puerto Rico. According to Caraballo Martínez, the experience of working at the Cardiovascular Center of Puerto Rico and the Caribbean, the Pediatric Hospital, the Alcoholism Emergency Unit at the Río Piedras Medical Center, and in a home for the elderly in Trujillo Alto was another important chapter in her professional career.
"It also gave me the opportunity to learn a little about the Island, its people, and its culture. I am grateful, satisfied, and happy for this achieved goal," she said.
The Professional Experiences Center – Sagrado Careers is another valuable resource for these students.
"We help these professionals coming from other countries to enhance their academic degree and the experiences in their professional record by adjusting them to the context of our system," explained Cassandra Vega Rivera, manager of Sagrado Careers.
The curriculum for this degree includes the development of competencies in areas such as fundamentals of nursing, medicine, surgery, maternity, pediatrics, mental health, community, leadership, management, and research, among others.
In addition, the program is accredited by the Commission on Collegiate Nursing Education, an autonomous accreditation agency that ensures the quality and integrity of academic programs in Nursing.
Do you want to study Nursing in Sagrado? Find more information here: https://www.sagrado.edu/enfermeria/