This Visual Arts professor stands out for her collaboration in Sagrado's institutional art projects.
By Liz Yanira Del Valle
Collaborator
She's not comfortable with the media. It's difficult for her to talk about herself: she's humble from head to toe. Her thing is to create and educate in art. Talking with our associate professor in the Visual Arts program, Marilyn Torrech San Inocencio, brings to mind the phrase of Cuban poet José Martí: "Doing is the best way to say something." Wherever Torrech is, she never stops "doing."
"I live devoted body and soul to teaching art," said Torrech, who has worked at Sagrado since 1982, and from which she is also an alumna.
Since that year, she has also worked as a teacher at the San Juan Art League. Additionally, she participates as an educational resource, along with her sister Inés, in different museums around the Island. "These work experiences have allowed me to diversify and validate myself as an educator in different settings and with different audiences," she commented.
As for Sagrado, it is worth noting that talking about art and not thinking about her is impossible. Just walking around the campus, one meets part of her arduous, fervent, and transcendental artistic work, carried out along with her students. Some examples of these permanent works are the murals, such as the most recent one: Asalto a la Pared.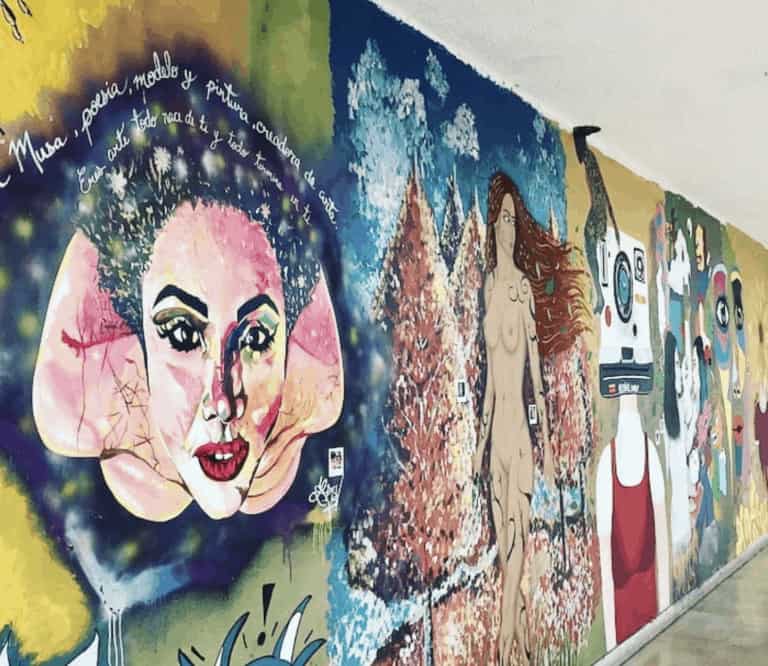 But for this educator, it is vital to go out with her student groups, not just outside the classroom, but also outside the campus. That is why she takes them to work in the city, to see artistic exhibitions and meet their creators personally.
"I believe in learning as an experience; it is what I try to foster in my courses. I like to expose students to different experiences, since contexts are important. Being in real places makes learning an unforgettable and multi-sensory experience."

Marilyn Torrech
Visual Arts Professor
According to this creator, who has a Master's degree in Puerto Rican Studies with a specialty in Art, her intention is for the student to find their own vocabulary.
"The emphasis is on subjectivity. In art, there is no single answer. Each person has different skills, perceptions, and life experiences, and this is reflected in artistic production. So when all the works are presented together in a critique session, they are all different. We learn with each other and we validate each other," she explained.
In addition to the work she develops in her courses, Torrech considers institutional artistic projects as important as they are necessary.
"Student projects in common spaces bring vitality to the campus, create a sense of belonging, and are evidence of the talent of our students. They foster an institutional Sagrado pride. These experiences also train them as cultural managers, a very important function of the plastic arts," she points out.
Recent institutional projects include several exhibitions and installations: In greeting to Myrna Báez (Campechada 2014); 100 years at the Madre María Teresa Guevara Library, Solidarity Art Encounter, 2nd Congress of Afro-descendants in Puerto Rico (intercollegiate activity); Santurce/Cangrejos, presentations at the Open Houses, among others.
For next semester, a collective project of the Advanced Drawing course is already in development to mark the centenary of the birth of Ricardo Alegría Gallardo, in April 2021.
In short, with Torrech, there is no end in sight…