This student organization was awarded the first NAHJ Student Chapter Cup by the National Association of Hispanic Journalists.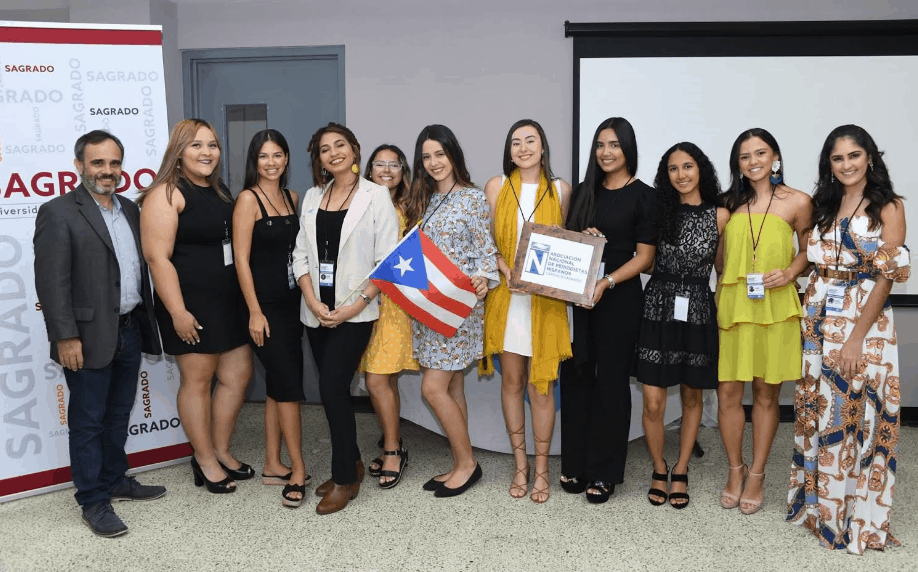 By Liz Yanira Del Valle
Collaborator
The NAHJ Sagrado student organization – a chapter of the National Association of Hispanic Journalists – was recently awarded the first NAHJ Student Chapter Cup.
This award recognizes the performance of the best out of the 24 existing student chapters in the aforementioned association, 21 of which are stateside and three are in Puerto Rico.
NAHJ Sagrado especially stood out for their organization of the Student Bootcamp, held last year on the Telemundo television station under then president of the Sagrado chapter, Angélica Serrano. Student chapters from the UPR-Río Piedras, UPR-Arecibo and Ana G. Méndez University also participated in said Student Bootcamp. These students benefited from the five conferences included in the event, given by veteran national and international media journalists who are members of the NAHJ.
The award was presented during the most recent annual convention of the NAHJ which, due to the pandemic, was held virtually.
"It is a privilege to be able to lead the first chapter of the NAHJ founded in Puerto Rico. Angélica Serrano Román – our past president – passed the baton on to me, but not without first having taught me a lot during the year in which I worked alongside her as vice president. My commitment continues now more than ever, when journalism once again proves how fundamental it is. Let there be more and more Latinos in the media," expressed Alanis Quiñones Colón, current president of NAHJ Sagrado.
Founded in 1984, the NAHJ has approximately 2,700 members, including active journalists, journalism students, and other media-related professionals.