The event featured artistic presentations by the students.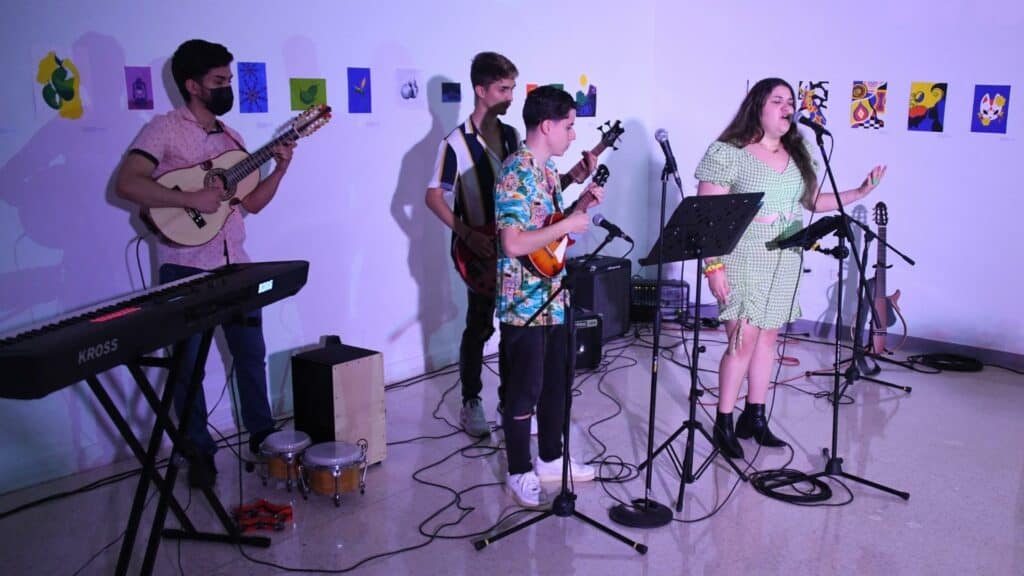 By Liz Yanira Del Valle
Contributor
With an artistic event, Sagrado Corazón University recently inaugurated its new School of Arts, Design, and Creative Industries on the Santurce campus.
Speaking to attendees, Sagrado president Gilberto Marxuach Torrós recalled the four years of preparation that it took to carry out this project, which reaffirms the university's commitment to the arts under a "categorical vision as a fundamental part of education."
"Art and design must be protected. For this reason, the school's name features creative industries," said Mr. Marxuach Torrós.
The School of Arts offers seven undergraduate programs: Dance, Music, Theater, Photography, Visual Arts, Animation, 3D Visualization and Interaction, and Design of Experiences: Tourism and Events.
Additionally, two newly created programs will be added starting in August. One is the bachelor's degree in Fashion Design and Management, which "will develop cutting-edge professionals who implement the best practices of ethical and sustainable fashion." The other is the bachelor's degree in Art and Entertainment Businesses, which "will train professional leaders with the necessary skills to create and support businesses and projects in the creative industries sector." Meanwhile, at the master's level, there is the Creative Writing program.
As explained by Dr. Javier Hernández Acosta, dean of the School of Arts, this space seeks "for students to receive comprehensive training where they not only develop their creative talent, but also obtain the tools to bring that talent to society. This can only be achieved with an entrepreneurial mentality and management capacity."
According to Hernandez Acosta, who is also a musician, the School of Arts has a clear agenda for creative industries as a resource for transformation in areas such as economics, politics, culture, art, education, the environment, and the community. "We talk about industry because art is a trade, it's work," he added.
The dean hopes that the School of Arts will build bridges between the cultural and creative ecosystems in order to continue articulating a collective development program for the arts and culture in Puerto Rico.
"This is a transparent agenda for cultural policies, for our Santurce community, for access to the arts as a universal human right, and for an ecosystem that respects equity and inclusion", Hernández said.
The facilities of the School of Arts are located in the main corridor of the second floor of the Barat Sur building. This area includes art workshops, music rooms, the Gallery, the experimental theater, the Creative Technologies Studio (StudioLab), and courtyards that complement the cultural infrastructure of Sagrado.
On the other hand, the Vice President of Academic Affairs and Provost, Dr. Anuchka Ramos Ruiz, mentioned the names of relevant figures who collaborated and left their innovative mark in the academic area of ​​the Arts in Sagrado, as well as others who provide continuity and add new contributions. Ramos Ruiz, who is also a writer, distinguished the names of Flavia Lugo de Marichal, Norma Candal, Emilio S. Belaval, Carlos Marichal, Edgar Quiles, Myrna Báez, Marilyn Torrech, Nitza Luna, Nibia Pastrana, Luis López Nieves, and Fernando Montilla, among others.
The new School of Arts has a group of academic leaders who are experienced and active in their disciplines: Jorge Flynn Cintrón (Music), Aurorisa Mateo Rodríguez (Design and Visual Culture), Alejandra Martorell Birriel (Dance), Fernando Montilla Torres (Animation), Maité González Pérez (Visual Arts) and Heriberto Feliciano Rodríguez (Theater).
The inauguration included varied artistic presentations by the students, which included musical numbers, dance, and a flashmob, as well as art and photography exhibitions, among others.
To learn more about the School of Arts, you can visit the following link: www.sagrado.edu/escueladeartes/.