This space will support the new bachelor's degree in Theology and Leadership for Social Action.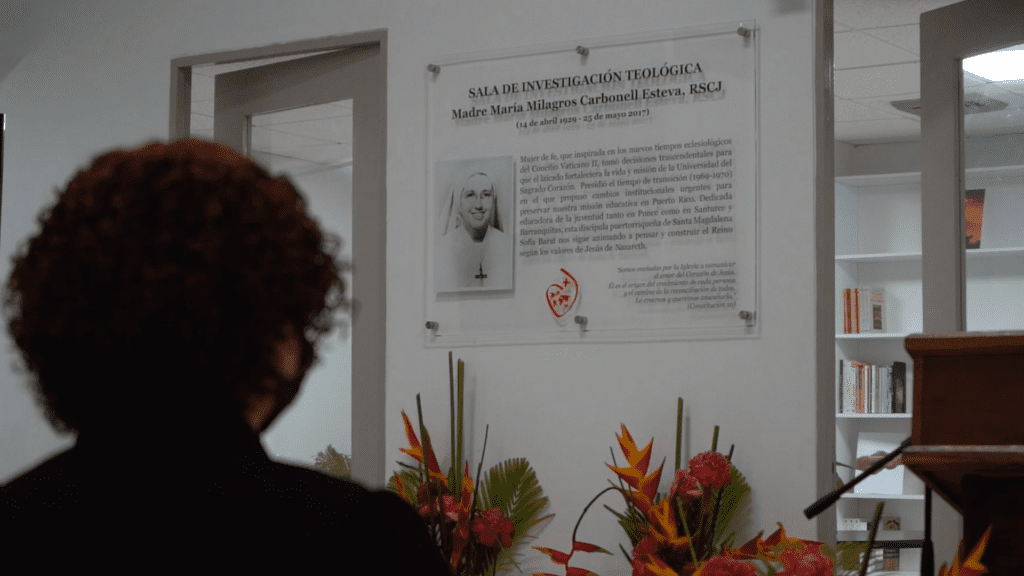 By Angélica Zayas Medina
Journalism Student at Sagrado
Sagrado Corazón University recently inaugurated its Theological Research Room: Mother María Milagros Carbonell Esteva, RSCJ; located at Centro Sofia in the Barat Norte building.
This space -both physical and virtual- promotes transdisciplinary research in theological sciences and other disciplines. Its mission is to increase and strengthen spaces for reflection, knowledge, and research at our university, in addition to maintaining a legacy. The room arises from the collaboration between Centro Sofía and the Madre María Teresa Guevara Library.
Mother María Milagros (1929-2017) was a woman who was full of light and educated and sowed exceptional values ​​in her students for years. "Educating people in intellectual freedom and moral conscience reflects what, for us, was the legacy of Mother María Milagros," said Sister Madeline Ortiz Rivera, RSCJ, Dean of Student Affairs, during the inauguration event at Sagrado.
Meanwhile, Fray Yamil Samalot Rivera said:
"We hope to see you all in the room, it is for you in the spirit of that great woman of the Second Vatican Council and the Society of the Sacred Heart, Mother María Milagros Carbonell Esteva."
Visit biblioteca.sagrado.edu/saladeteologia for more information about this space.