It's a $15,000 contribution from the Raymond Gerena Foundation.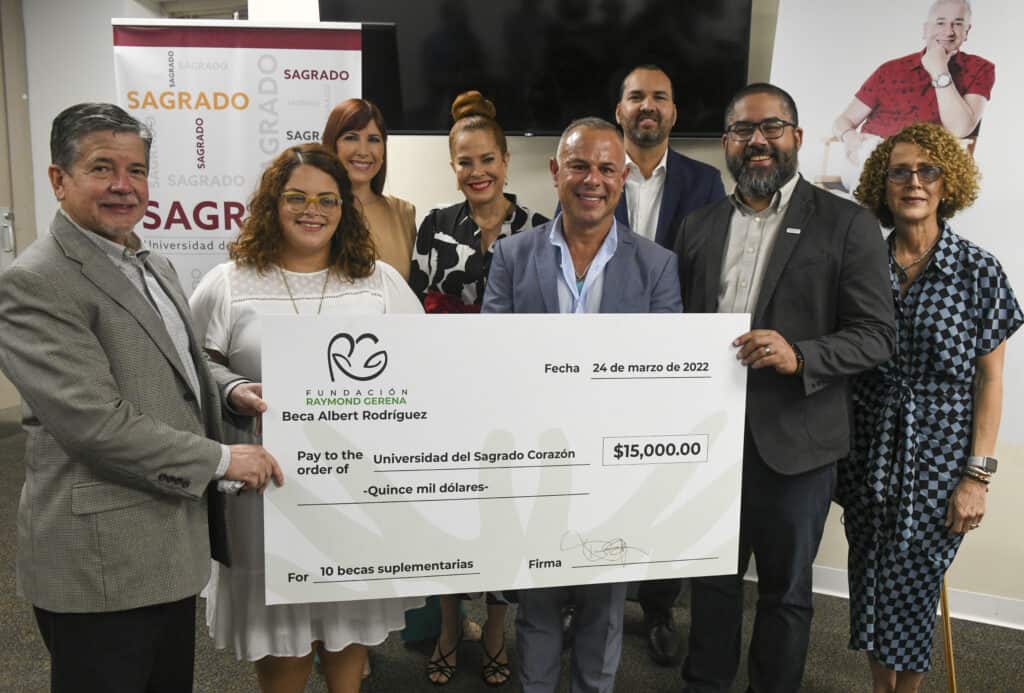 By Integrated Communications
This Thursday, March 24, Sagrado Corazón University received a contribution of $15,000 from the Raymond Gerena Foundation in order to grant 10 Albert Rodríguez supplemental scholarships worth $1,500 each.
This financial aid will support juniors and seniors in Marketing, Event Production, and Theater undergraduate programs, as well as the graduate certificate in Event Production and Marketing.
Gerena, who is a theater producer, handed the donation to Sagrado's Dr. Anuchka Ramos, vice president of Academic Affairs and Provost, and Sara Tolosa, vice president of Development and University Relations.
"We thank the Raymond Gerena Foundation and all those who have contributed with the collection of the donation. Since Sagrado is a non-profit educational institution, this contribution allows us to continue our mission of educating people in intellectual freedom and moral conscience, who are willing to participate in building the supportive and fair community to which we all aspire," Ramos said.
Meanwhile, Tolosa stated:
"For Sagrado, having collaborators such as the Raymond Gerena Foundation means expanding the range of financial aid opportunities that we can offer our students, so that they can achieve their dreams and goals. Over the years, we have learned that supplemental financial aid can make all the difference for a student to stay in college and complete his or her degree. Investing in education is investing in the future of Puerto Rico."
Actresses Marian Pabón, Madelyn Ortiz, and Suzette Bacó attended the activity, which took place on the Santurce campus, as well as relatives of actor and teacher Albert Rodríguez, who passed away in March 2021.
Albert was the director of most of the plays produced by Gerena in his 30-year career. They were also very good friends.
For more information about the scholarship, send a message to: oportunidadbecas@sagrado.edu.