For four days, the university opened its heart and its campus in Santurce.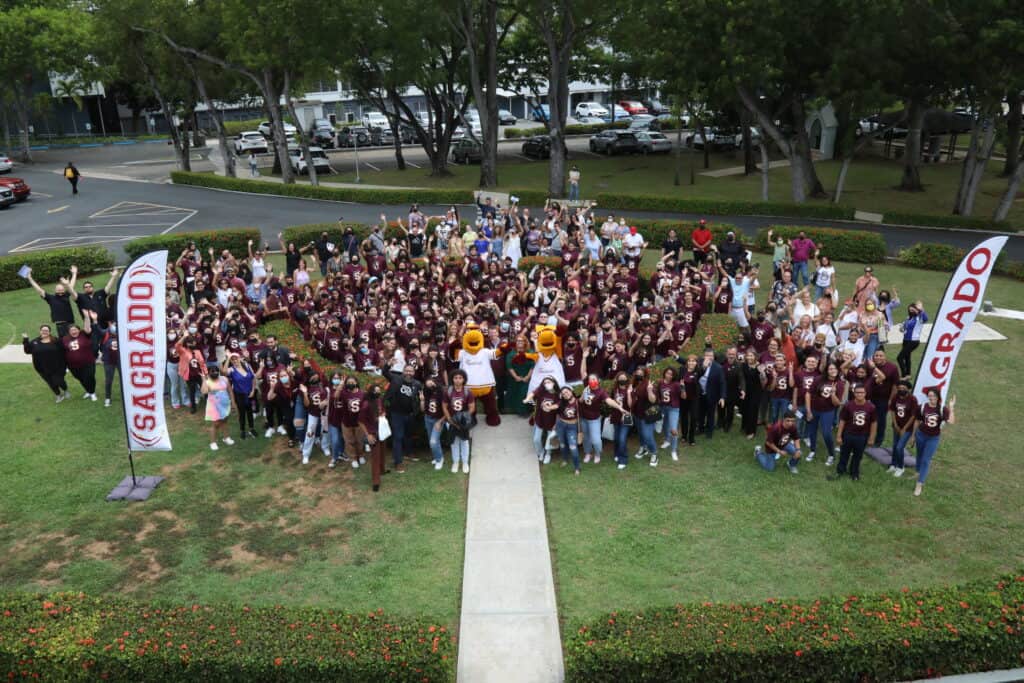 By Liz Yanira Del Valle
Contributor

Sagrado opened its heart and its campus from August 9 to 12, 2022, to welcome new students to the 2022-2023 academic year.
Events included a tour and talks "introduction to university life" talks with advisors. There were also information kiosks by the Center for Collaborative Innovation (Neeuko) and representatives from La Cepita, such as Maité Torregrosa with Maiteria Prima (ceramics), Diego Barea with his clothing brand, Carlota Pérez with Tassel by CP (jewelry), and Yuliana Caraballo with K-Zpot (radio show).
The official welcome was in charge of the academic deans: Gabriel Paizy, from the Ferré Rangel School of Communication (ECFR, Spanish acronym); Javier Hernández, from the School of Arts, Design, and Creative Industries; Dennis Román, from the Department of Business Administration, Kiebelle González, from the School of Health and Sciences, and Nadesha González, director of the General Education Unit.
The president of the university, Gilberto Marxuach-Torrós, was also there.
"In Sagrado, I am happy. I found a good combination between art and business," 18-year-old Ariana Rodríguez, a Dolphin in the Arts and Entertainment Business program at the School of Arts, told inSagrado.
Meanwhile, Gustavo Rodríguez Morales, hailing from Dorado and majoring in Graphic Design; agreed: "At the School of Arts, they have a diverse and flexible academic offer, which is ideal for combination."
Like Ariana and Gustavo, the rest of the new Dolphins were enthusiastic about the start of the academic year on Tuesday, August 16. "I'm a part of Sagrado since I came to the Open House," said Yosean Martínez.
As for the students' families, they were advised by Centro Sofía, Sagrado Global, and the Student Aid Program (PAE). The day concluded in front of the Portico of the Sagrado Corazón building with students posing for a group photo with Delfy and Daphne, Sagrado's mascots.
Welcome home!