For this Sagrado Alumna and Sagrado Careers manager, everything she experienced while studying abroad translated into personal growth.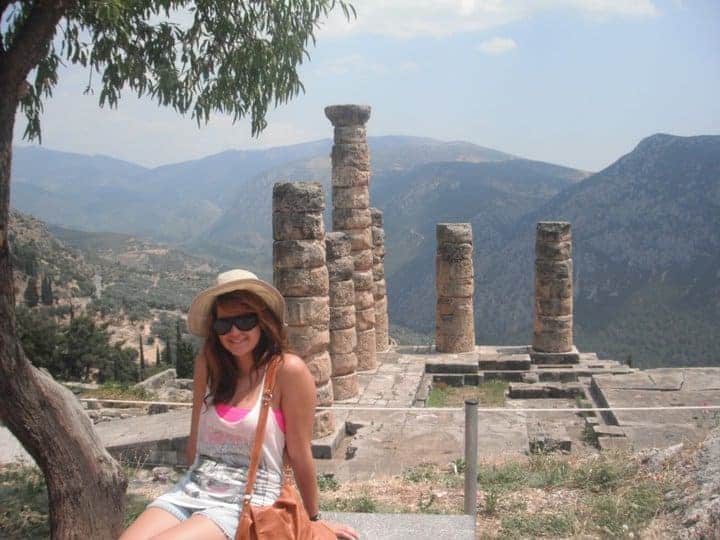 By the Internationalization and Intercollegiate Relations Office
There's so much talk about the personal and professional development experienced by students who choose to study abroad. For Cassandra Vega, a Sagrado graduate and senior manager of Sagrado Careers, her study abroad experiences translated into growth, the ability to see beyond in situations, and a vast network of contacts around the world.
During her undergraduate years, Cassandra pursued every international opportunity that came her way, beginning with the Cordova and Fernós Internship in Washington, D.C., specialized in international marketing.
"That was my first experience living alone and doing everything on my own. It was exciting to know that I was able to solve everything, the good and the bad, to see how I spent my time, where I ate, how I used the funds that I had designated for each week. That independence gave me a lot of strength and made me understand that the decisions I made would be for my personal, social, or academic benefit," she recalled.
Since she was aware that the skills and abilities about to be in demand in the future required a higher level of competence, Cassandra embarked on an international trip shortly after her experience in Washington, D.C., which focused on humanistic studies and took her to 12 different European countries. "I knew there was a way to explore what I was seeing in theory in the classroom: by living it," she said, while acknowledging that living on a small island can limit our view of the world and the way we consume and interpret information. "We live in a globalized world. That is no longer just a topic of conversation, it is a reality," she added.
That reality was unmistakable during Cassandra's third study abroad trip. She was selected for the Botín Foundation scholarship and represented Puerto Rico, along with 40 young people from different Latin American countries, during a semester in Madrid, Spain. The group would discuss socio-political issues, economics, and European influence on Latin America, and it was precisely the plurality of opinions on any issue that helped her understand who she was in the world.
"Not only was I the only Puerto Rican, but also the only person from the Caribbean. That, although I appreciate Latinos' shared history, taught me to embrace cultural diversity and opened my mind in a way that was beyond compare," she enthused. "In one of my trips to another continent, I found myself looking up at the sky and realizing that we didn't see the same stars. I remembered that, back in grade school, I had learned the difference between the hemispheres, but having lived it and actually observed it is an experience that no one can take away from me", he added.
Fortunately, all of Cassandra's amplified knowledge pays off in her career and is transmitted to the students she has an impact on through Sagrado's Center for Professional Experiences, known as Sagrado Careers.
In summary, some of the skills strengthened through the opportunities that the Office of Internationalization and Intercollegiate Relations (OIRI, Spanish acronym) provides include:
an increase in cultural intelligence
a strengthening of language and communication skills, both between peers and between generations and cultures
a development of empathy in order to collaborate with people of diverse perspectives and nationalities
the construction of robust critical thinking skills that improve the powers of argumentation beyond what can be collected from traditional and digital media
"Human talent is always going to be compared to one another. The profile of a candidate who had some international experience can be more attractive when evaluated together with another candidate that has a very similar skill set," Cassandra said when discussing the competencies that rise to the next level as a result of study abroad. Likewise, strengthening ties with other people in these international experiences creates a very wide network of contacts in different parts of the world. As that network expands, so do the solutions and the ways to connect and collaborate.
"Nothing substitutes living for a long time in another country, learning with people from other cultures. If the opportunity arises, seize it!" Cassandra advised. "I am aware that this would not have been possible if I had not come to Sagrado. They gave me all the tools and the best service that one can ask for when exposing oneself to processes that may be scary, such as it is to live in another country", she concluded.
In addition to the counseling and management services that OIRI provides in favor of student mobility, study abroad is complemented with solid support during the reentry process, which includes mock job interview exercises and resume preparation. This translates the personal experiences of each study abroad student into competitive advantages for their professional future.
Those interested in finding out more about study abroad and other intercultural opportunities can visit www.sagrado.edu/internacional or write to internacional@sagrado.edu.