Ana Toro works as a Public Affairs Officer at the Centers for Disease Control and Prevention.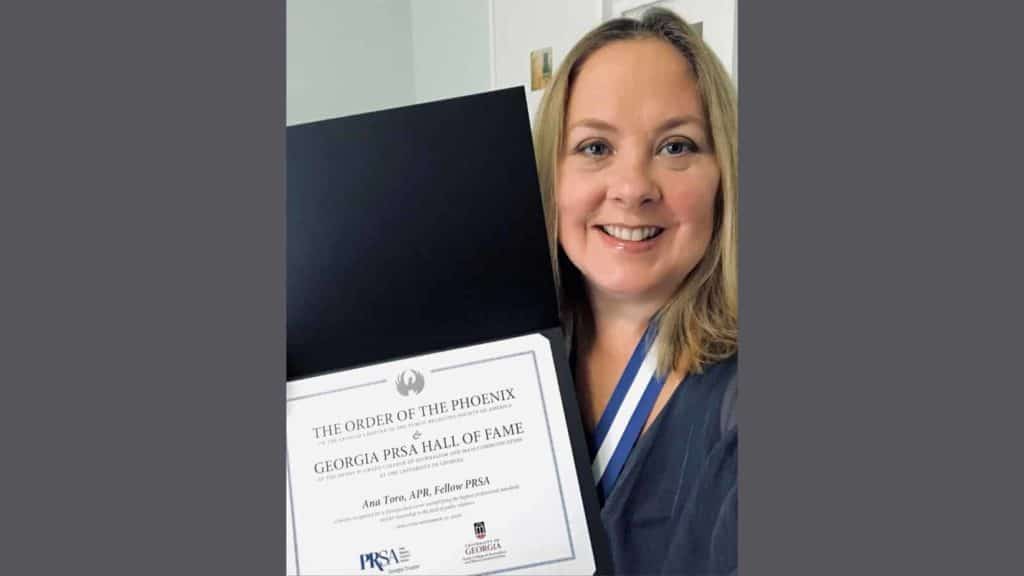 By Integrated Communications
The Georgia chapter of the Public Relations Society of America recently held its annual award ceremony, the Phoenix Awards, where Sagrado alumna Ana Toro was inducted into the Public Relations Hall of Fame for her outstanding professional career.
"This recognition by the guild summarizes my career and the work I have done for the good of the profession. I hope to be an inspiration for Sagrado students, so that they may see that we can tear down barriers and go far no matter where we are."

Ana Toro, Sagrado alumna (1990/1994)
This honor places her alongside other pioneers of the aforesaid Hall, such as Ivy Lee (father of modern public relations) and Scott Cutlip (author of Effective Public Relations).
The ceremony, which was held virtually this year, honored excellence in the practice of public relations, as well as other leaders for their contributions to the chapter, the profession, and the community.
Gabriel Paizy, director of the Ferré Rangel School of Communication, was excited after hearing the news.
"I am very proud of Ana. This recognition is well deserved for her excellent professional career and human qualities. Since she is a graduate of our Master's degree in Public Relations, this news fills us with great joy," said Paizy.
The Public Relations Hall of Fame, established in 1988, is located at the University of Georgia.
Ana, who serves as a public affairs officer for the Centers for Disease Control and Prevention in Atlanta, was not only inducted into the Public Relations Hall of Fame, but also received the event's highest accolade, The Order of the Phoenix.
In her acceptance message, she dedicated the award to late public relations practitioner Fernando Valverde, who was her professor and thesis advisor, as well as boss and mentor during her career.
Congratulations, Ana!