Nadya Díaz y Zoribel López lead the Mother Flower Products entrepreneurship project.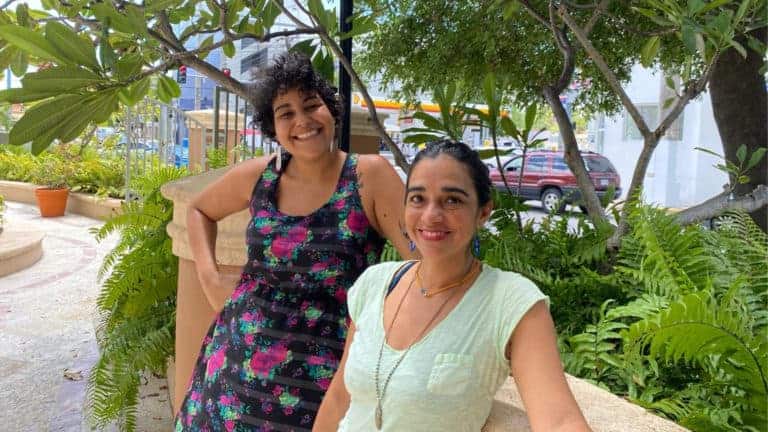 By Liz Yanira Del Valle
Collaborator
Nature and its flowers brought two Sagrado alumni together in Mother Flower Products, a business project that goes beyond selling personal care products, since it is their mission and vision to build "a community project with environmental commitment."
Nadya Díaz and Zoribel López did not meet in Sagrado, but something very special linked them: the Nuestro Barrio program. According to these alumni, Mother Flower Products was part of the first group of small Santurce entrepreneurs to benefit from the mentoring of the campus-based program.
"Nuestro Barrio helped us meet other merchants in the area and create a solidarity network, to manage finances, accounting, among other matters," explained Nadya.
The beginning
It all started with Nadya's need to protect her oldest son's skin. The boy was born with a condition that makes him very sensitive to sunlight.
"It was difficult for me to get sunscreen here on the island at an affordable price. I researched the ingredients of natural sunblock and realized that I had most of them, so I decided to make it at home," the entrepreneur recalled.
According to Nadya, her sunscreen passed her close circle's test, so she decided to formalize production by participating in three business incubators.
"Mother Flower's sunscreen is eco-friendly with respect to coral reefs, as it does not contain toxic ingredients such as avobenzone, oxybenzone, and perfumes. It has been proven already that these affect and bleach coral reefs. The packaging is made of aluminum or glass, thus eliminating the use of plastic," said Nadya, who also makes balsams, ointments, oils, and repellants.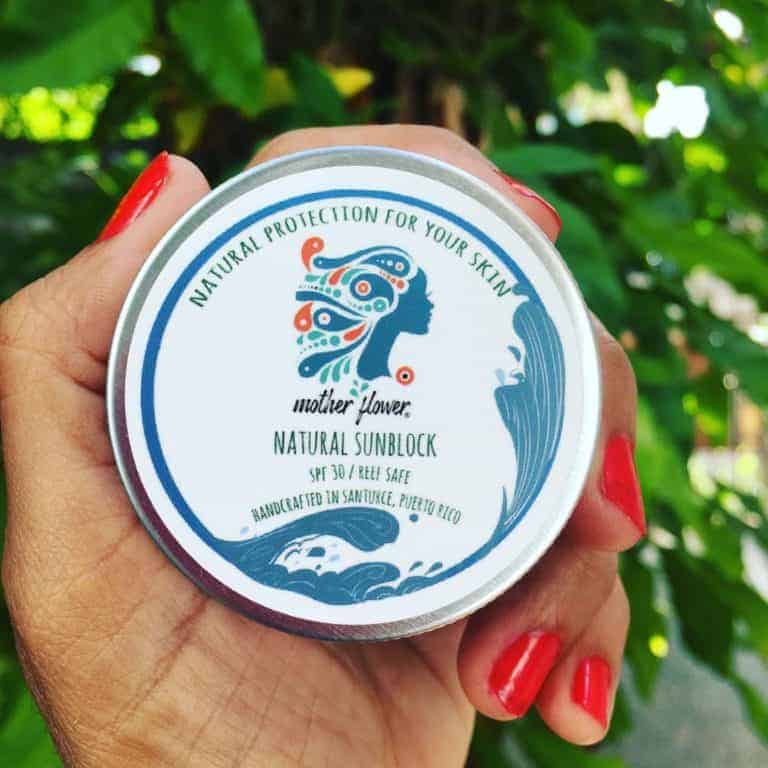 Coming Together
Nadya obtained a Bachelor's degree in Industrial Psychology from Sagrado in 1998 and a Master's degree in Exercise Sciences from the University of Costa Rica. Later, inspired by her love of nature, she studied Permaculture with her mentor, the Puerto Rican ethnobotanist María Benedetti. Thus, she began to prepare ointments based on flowers and medicinal plants.
On the other hand, Zoribel has a Bachelor's degree in Literary Creation but spent 16 years of her life working in customer service at the Electric Power Authority. Looking to change course and fully enter the creative world, she moved to Santurce, where she was living when Hurricane María hit. There, she participated in community recovery efforts, including supporting her neighbor Nadya with her fledgling business, thus becoming Mother Flower's social media manager.
"I opted for a change in my lifestyle, I left my job, I began to create the scaffolding of the history behind this company that captivated me and, without realizing it, that saved my life," said Zoribel, who recently concluded a Post-Bachelor's Certificate in Event Production and Marketing offered at Sagrado.
For Zoribel, Mother Flower also creates awareness of our consumption and actions towards the environment, so they promote reusing materials and reducing garbage.
Despite the difficulties imposed by the COVID-19 pandemic, this local business is still active with online sales, since both women agree that now there are more reasons than ever to continue taking care of ourselves as well as our ecosystems.